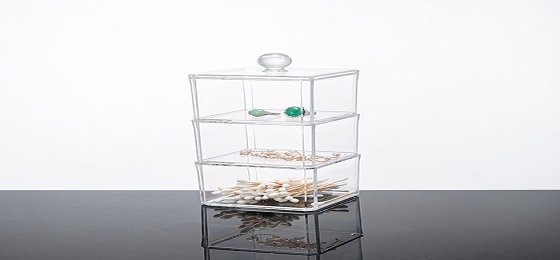 3 Stackable Drawer Hair Accessory Containers
Is your dressing table cluttered and disorganized? Do you have masks lying around? Is your makeup, lipstick, eyebrow pencil always out of reach? It's time to prepare yourself a multifunctional clear makeup organizer, not only good for use but also high value.
What is the best material to choose for the storage box?
The market is generally on the most plastic and wooden. Although the plastic is cheap, but not high-grade. Most of them are open mold to do, there is not a large number of done is not cost-effective. Wooden, which is the oldest generation of the most commonly used materials, is now obsolete. If you are looking for home storage boxes and gift storage boxes, we recommend acrylic material.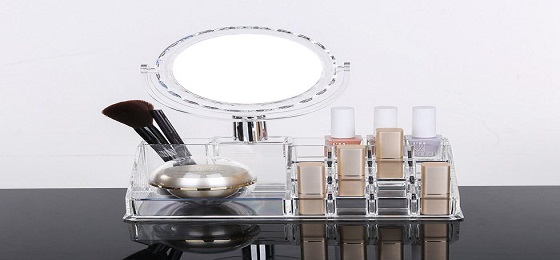 Acrylic Cosmetic Storage Display Organizer with Mirror
Why do you need an acrylic organizer?
For girls, it is a good choice to put a small organizer in front of the dressing table. The cosmetics you usually use will not look messy again after the table is cleaned up. On the contrary, put some small items into the organizer to make your dressing table look neat and tidy.
Acrylic storage boxes are not only beautiful and high-grade but also very durable. Our regular practice is to use thicker acrylic panels 5mm for the outer frame, and 3mm acrylic panels for the inner drawers, so that the overall structure is relatively strong. For the appearance of the treatment, we can use 45 degrees angle splicing, and then chamfered rounded corners to ensure that no scratching hands, no burrs.
In a busy life, the high value of the storage box and your mask, cosmetics more compatible. Not only can you neatly store a variety of masks, cosmetics, and small items, saving space and time. Also, when your clutter becomes organized it will bring you a good mood for the day.
We are an acrylic makeup organizer manufacturer, please feel free to contact us if you need them.