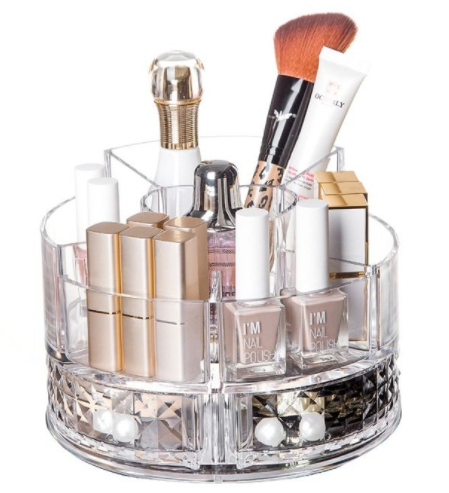 Acrylic organizers are the perfect gift item for anyone! With its beautiful transparent appearance, it will add a great touch to any home decor, bath vanity, or makeup studio. Acrylic Organizers are functional and they are so beautiful. Acrylic organizers are also great to use in business.
A high-quality acrylic organizer resembles glass but will not shatter like glass, and it has a transparency rate of 93% to allow high light transmittance and optical clarity. The high-quality acrylic organizer will brighten your room as a decorative piece, and at the same time, it will serve as a functional piece of furnishing to organize.
The best gift for yourself
Amongst all the gift-giving you will be doing, you must never forget to treat yourself to a bit of gift as well, especially something that you know you've needed for a while but never quite got around to getting it for yourself. An acrylic makeup organizer is a perfect example of that.
You use your makeup pretty much every day. You shouldn't have to make do with makeshift solutions. Your morning routine can be cut short by ensuring your cosmetic accessories are all neatly organized in an acrylic drawer organizer. You shouldn't have to jump around from here to there because you don't have all your different makeup and cosmetics in one place. Your time in the morning is valuable. We know there is always something useful you can do with any saved time. With the acrylic cosmetic organizer, you can adapt to a calm morning routine.
An acrylic makeup organizer is available in different sizes and different styles. You can choose the acrylic drawer organizer that best fits in the room and fits in best to the design and look the room as well. A vanity organizer drawer could fit in nicely in your room and make it look even nicer.
Get an acrylic cosmetic organizer, your gift to yourself for this holiday season, a way to improve your morning routine and make it less time-consuming and more convenient to perform. Makeup is a part of your life. You use your cosmetics every day. Treat it with vital importance. Treat yourself to an acrylic drawer organizer for the holidays. You will thank yourself every morning!
We sell acrylic makeup organizers wholesale. Please contact us if you need them!