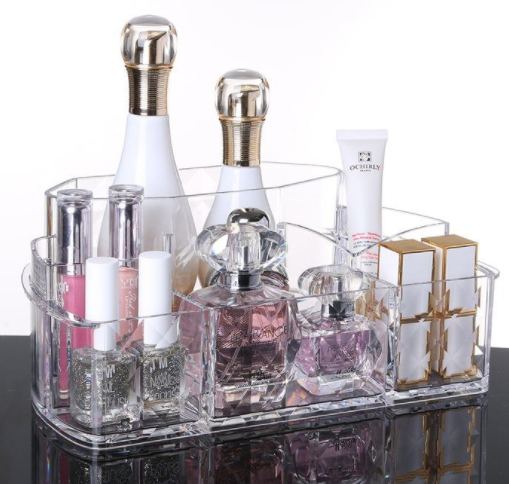 Clear Cosmetic Storage Organizer
1. Keep your most used products visible.
The items that you reach for every morning while you're getting ready for work should be front and center, and easily accessible. For example, I really only wear eyeshadow when I'm doing a glam makeup look (which isn't often) so my eyeshadow palettes are tucked away in a drawer. But my everyday makeup products—like my favorite foundation, bronzer, and eyelash curler—are right on top of my vanity within arm's reach.
2. Be prepared to purge.
Before you even begin re-organizing your stuff, use it as an opportunity to go through everything and assess what you actually use, what you've been hanging on to for too long, and what needs to be tossed because it's expired.
You'd probably be shocked to find out how many things you own that are well past their prime.
3. Use ACRYLIC RISERS to save space and maximize visibility.
They give you twice the amount of space because you can store products on top of the riser, as well as underneath. Plus, the added height means that you're able to see things that might have otherwise been hiding in the back.
4.

Acrylic organizers

are the best way to see everything you have.
If you've storing your products in makeup bags or random drawers, it can be super challenging to find things—and keep track of what you actually have. Acrylic storage will be a GAMECHANGER. Trust me. Not only does it look visually appealing, but there are also dozens upon dozens of different sizes, shapes, and combinations to fit your exact space and needs.
This stackable system is amazing and inexpensive. (It's what I have.) I also like the fact that the top part is open, which helps to accommodate products of varying heights.
Out of all the options, I prefer drawers that are a bit wider and deeper, because I find the narrower drawers to be a bit limiting.
5. Try this DIY makeup brush organizer idea.
One of my favorite hacks is to use turn my old candles into holders for makeup brushes, wands, rollers, etc.
There are a number of ways to do it, but what I do is put the candle glass in the freezer overnight when you're finished burning the candle. The remaining wax in the bottom of the vessel will shrink, and you'll be able to pry it out using a fork or knife.
If there's still a little wax on the bottom or on the sides of the glass, run it under hot water and then wipe it clean with a paper towel. Throw it in the dishwasher (unless it has a delicate label that you want to keep in tact) and then you're good to go.
6. Get one of these cheap dividers to store palettes in drawers.
Before I used this divider, my palettes were all over the place and stacked on top of one another, so inevitably, I would just end up using the one that was on top. Now I'm able to see everything—and they're actually taking up less space.
I also like using these super basic drawer inserts to keep everything organized in my drawers, rather than rolling around.
We sell acrylic makeup organizers wholesale. Please contact us if you need them!