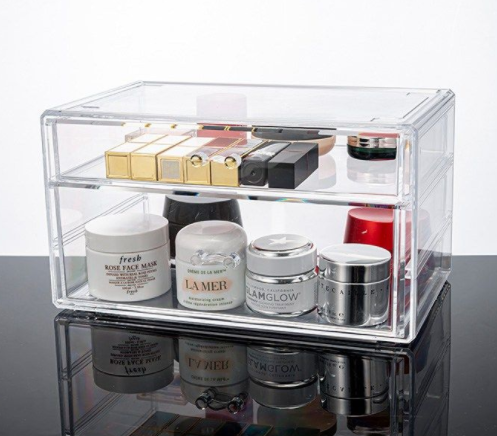 Acrylic products such as acrylic makeup organizers have a sophisticated look about them and are durable at the same time. They are a perfect addition to modern living spaces. How does one go about cleaning acrylic makeup organizer?
We will show you how to clean an acrylic makeup organizer, but first, do have a look at our online catalogue.
Xinyutai acrylic makeup organizers, as you might have noticed, are made from durable acrylic material. They are remarkable for their unique and functional design.
These clear acrylic makeup organizers are made from perfectly transparent and robust material, and are a very efficient way to consolidate and organize your makeup products.
That's great. Tell me how to clean my acrylic makeup organizer.
Okay.
Tips for Cleaning Your Acrylic Makeup Organizer
You will need this…
You will need a plastic cleaning solution made specifically for cleaning acrylic products; a clean microfiber cloth and a plastic polish kit.
Things to avoid
Never use strong cleaners such as acetone, trichloroethylene and ammonia. Avoid ethyl alcohol as that leads to the discoloration of the surface and definitely stay away from any abrasive solvents, cleaners, cleaning powders, steel wool, creams, rough sponges, etc.
Apply the cleaner to get rid of any dust or debris
Apply the plastic cleaning solution to the acrylic surface. Clean the surface and polish the acrylic gently with the microfiber cloth till all dust and debris are removed. Once the surface is clean and looks perfectly polished, move to the next step.
Get rid of the scratches
Use the plastic polish kit we talked about to remove the scratches, if any. If the scratches are very deep, then you should take the acrylic makeup organizer to a professional, who will use different techniques to buff the surface.
Dust and light fingerprints
Did you notice any fingerprints on the acrylic surface? The microfiber cloth will get rid of that.
Remove makeup stains
If there are any makeup stains on the acrylic surface, you can moisten the microfiber cloth with a liquid soap or detergent which has been diluted with water. Use the microfiber cloth to wipe the clear acrylic makeup organizer so as to get rid of all the smudges and stains.
Tips for Maintaining the Quality of Your Clear Acrylic Makeup Organizer
Remember this!
Xinyutai clear acrylic makeup organizers have a scratch resistant surface. But that doesn't mean you should drag any items on the surface of the organizer.
Keep sharp objects away from the organizer, they could damage the acrylic.
Never place a hot straightener brush or hair dryer in the organizer. You should make sure that the tool has cooled first, put a cloth over it and only then place it in the organizer.
Follow the tips and advice given here for cleaning your acrylic makeup organizer and maintain its quality. This way you can be sure about enjoying your Xinyutai clear acrylic boxes for a long time indeed! We sell acrylic organizers wholesale. Contact us for a quote.